River Oaks Treatment Center
Addiction rehab treatment facility in Tampa, Florida
River Oaks Treatment Center in Riverview and near Tampa, FL, provides you or your loved one with high-quality addiction treatment and care as well as the features and amenities you are looking for in a rehabilitation program. Find out here about River Oaks rehab programs, amenities, detox and therapy types, reviews and more.
Facility Information
12012 Boyette Rd, Riverview, FL 33569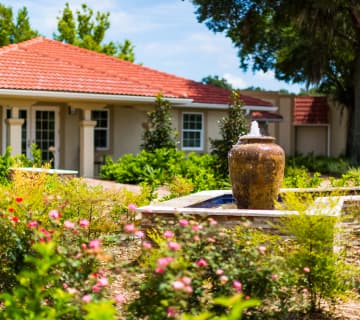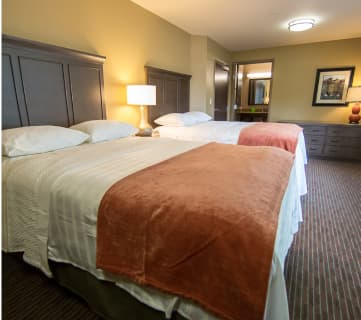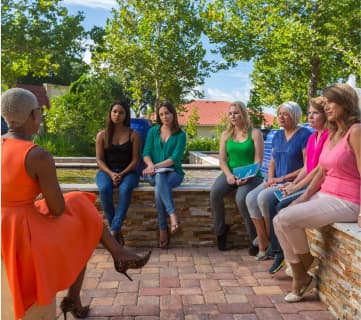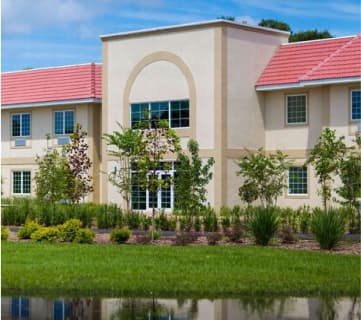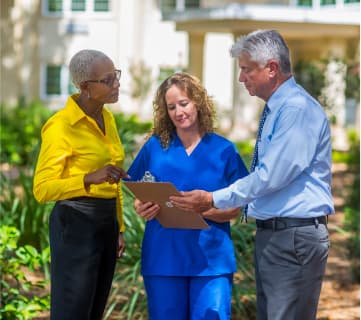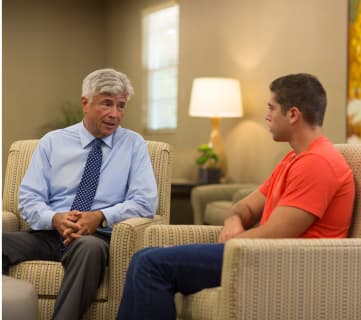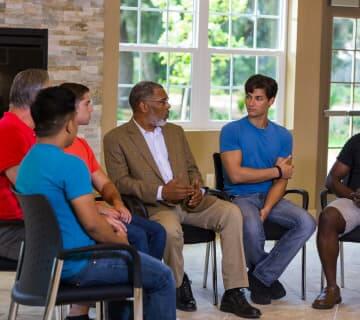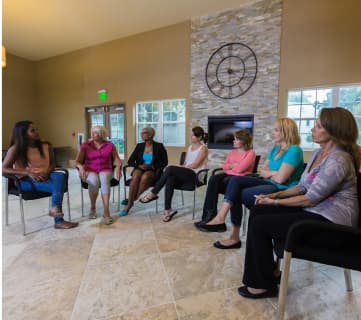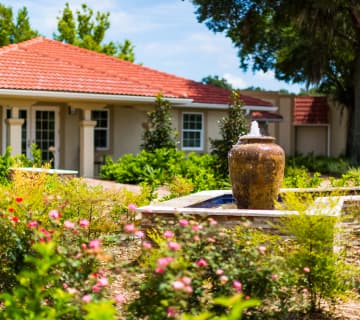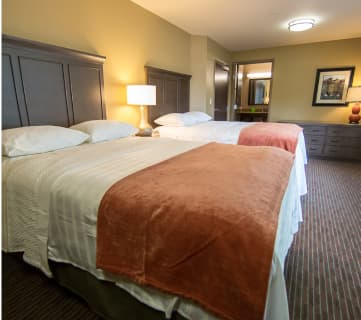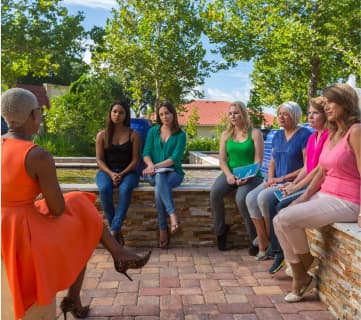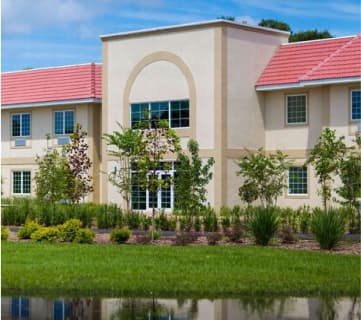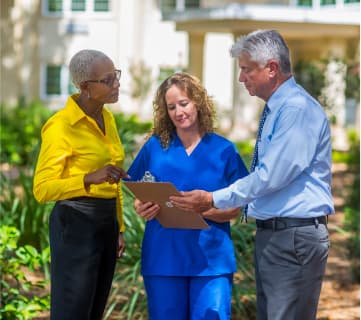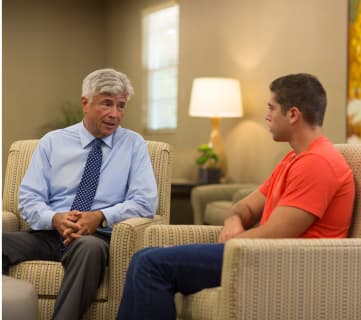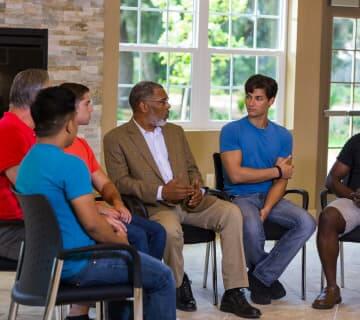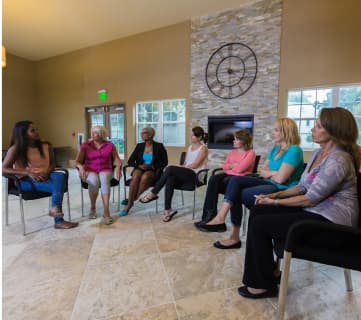 Treatment You Can Trust
Experience the River Oaks difference




River Oaks Treatment Center has advanced accreditations and professional licenses, ensuring that you will receive the highest level of care. The professional staff is there with you every step of the way, from the day you begin treatment through the day that you leave--and beyond. River Oaks offers you a safe, supportive environment where you can work on your recovery.
At River Oaks, your treatment is personalized, offering care for addiction and co-occurring mental health issues. The facility has a world-class medical staff made up of caring, compassionate, and qualified clinicians who are there to offer you research-based clinical and support services.
Residential Treatment

Residential treatment programs provide housing (food and meals) in addition to treatment for substance abuse. Some facilities offer only short-term residential treatment, some offer only long-term treatment and others offer both, ranging from a few days to many months, based on patient needs.

Family Program

Research shows that the odds of successful, sustained recovery from addiction are far higher when family members and loved ones are involved in treatment. Drug and alcohol addiction often have genetic roots, whether related to substance abuse, mental illness, or both. Family dynamics also play a role and, often, family members are the first to realize a loved one has developed an addiction. Also, it's important for family members to understand and embrace the lifestyle changes that are required to sustain recovery.

Medical Detoxification

Drugs and alcohol have widespread effects throughout your body, including but not limited to the addiction and/or physical/psychological dependence that develops with substance abuse over time. Many organ systems are affected by addiction and will react to withdrawal. The term "medical detoxification" means that there is a trained and licensed medical professional onsite to monitor your vital signs and protect your physical and emotional health as your body goes through withdrawal.

Aftercare Support

Addiction recovery does not end with discharge after completing a rehab program. Our facility offers aftercare planning and/or support work with patients to ensure sustainable recovery by planning and making arrangements for transitional or sober living, help with housing, vocational counseling, etc.
In the event of a relapse at any time post-treatment, American Addiction Centers, Inc. will provide qualified individuals with up to an additional 30 consecutive days of treatment at one of its facilities at no additional cost to you. Some people think of it as a treatment guaranty – to us, us it's our brand promise.
*Terms and conditions may apply, and results may vary.
Patients: We screens all patients prior to admission to determine personal travel history, potential exposure, potential contact with someone who has traveled to areas of concern, any direct contact by the patients with persons diagnosed with COVID-19, and any symptoms of illness. Those who screen positive will not be admitted to treatment. Those who screen negative will be eligible for admission.
Staff: We are committed to ensuring staff at our facilities are not infected with COVID-19 virus. Staff who have traveled to areas of concern, have been in contact with someone in these areas, have been in direct contact with someone diagnosed with COVID-19, or shows any signs of illness are asked to follow the U.S. Centers for Disease Control and Prevention guidelines, which dictates 14 days of isolation with no symptoms from the time of contact.
Services & Treatment
Co-Occurring Disorder Treatment

Addiction Focused Healthcare

Inpatient Residential (IR & RTC)

IOP / Intensive Outpatient

Telehealth Addiction Treatment

Diagnostic & COVID Testing
Facility Highlights
24 Hour
Medical Supervision
Treatment Staff
Board-Certified Physicians & Physician Assistants
Registered Nurses & Nurse Practitioners
Certified Drug/Alcohol Counselors & Therapists
Therapists/Yoga Instructors & Recreational Therapists
Check Your Insurance
We are in-network with top insurance providers
We use the information on your insurance card to verify your coverage for treatment at American Addiction Centers facilities.










Check to see if your insurance is in-network at an American Addiction Centers location
We'll instantly check the coverage offered by your insurance provider.
You may receive treatment at one of our facilities at a reduced rate.
* These fields are required
Frequently Asked Questions
What is the purpose of this form?
By filling out and submitting this form, you will instantly receive results confirming if your insurance provider is actively covering addiction related services and treatments or not. If your insurance is in network with American Addiction Centers (AAC) you will be notified by our admission navigators.
You will be contacted by an American Addiction Centers (AAC) admissions navigator who will provide you with information to help you make an informed decision about addiction treatment. Our admissions navigators are available to answer any questions you may have as you consider whether treatment with AAC is right for you.
Which treatment centers can I go to?
American Addiction Centers (AAC) has multiple locations across the country. Depending on your insurance coverage, our admission navigators will provide information about which location will best cover your treatment and fit your treatment needs.
About River Oaks Treatment Center
About River Oaks Treatment Center
Treatment & Assessment
Staff Credentials
Accommodations & Amenities
Financing
About River Oaks Treatment Center
Located near Tampa, Florida, River Oaks Treatment Center provides a continuum of addiction care including both inpatient and outpatient options for people struggling with substance abuse and co-occurring mental health disorders.
A member of the American Addiction Centers family of facilities, River Oaks is committed to providing patients with high-quality care and carries several industry accreditations. The Tampa rehab facility also offers a 90-day guarantee that allows those who successfully completed 90 days of treatment to return for 30 days of care in case of relapse.
Utilizing a combination of evidence-based care and holistic practices, River Oaks Treatment Center provides patients with the support they need to heal physically, mentally, emotionally, and spiritually. The trained staff also includes a team of physicians, psychologists, therapists, and nurses to assist patients with every step in their journey to long-term recovery.
Open to those from near or far, River Oaks provides a safe and serene environment for those working toward recovery for addiction.
Important Notice
Withdrawal.net is a third-party resource for consumers seeking addiction treatment.
We list thousands of treatment providers throughout the U.S., often including alumni and staff ratings and reviews, and Rehabs 360 Guides that provide valuable information for people making difficult decisions. Withdrawal.net is not influenced in regards to its ratings or reviews by any treatment center or its sponsors, and we clearly designate advertiser relationships with "Sponsor" or "Ad" or "Advertisement".
River Oaks Treatment Center Reviews
Overall Ratings
Note
Anyone attempting to manipulate or spam our system or the providers' own listing pages risks having all content removed.
Accomodations & Amenities

Treatment Effectiveness

Meals & Nutrition
Bethany is a Therapist, who held attention in groups. She was fun and energetic. She taught in a way that I understood and related with 99% of the time. She allowed the group to openly discuss her lessons with her and would break things down for us. Bethany held me accountable too! If I walked in late and thought I could make it quick enough before she noticed... yeah right. She would call me out when I did and let me know that I was not sneaky. After her groups we would all be smiling when we walked out. She even sat in other groups with us participated and shared like she was a resident! Spunky and advocated for all of us.
Accomodations & Amenities

Treatment Effectiveness

Meals & Nutrition
When people hear the word Cafeteria they would not imagine the cleanliness, and love that the River Oaks food coordinators have. It was not how I pictured at all. Ms. Glenda kept a quick pace to get us all through the line and fed accordingly. I had some teeth that were broken and could not eat the meals being served, so she made sure to have a "special" plate just for me. That made me feel like an important woman, to know that I would not go without something that didnt hurt my mouth to eat. She works so hard to serve enough food for everyone on campus, and always greeted everyone with a smile and kindness most people do not. The food was great, multiple choices to pick from, the property was very well cleaned and stocked, and the staff from houskeeping to the Bosses, made my time here worth it.
Accomodations & Amenities

Treatment Effectiveness

Meals & Nutrition
River Oaks has an outstanding bubbly and cheerful young lady by the name of Ray, " little ray" we would call her, that represents everything Recovery in every way. She is so cute and funny, but would not let anyone mess around. She always made my day when I would see her. Ray gave compliments to everyone and was so easy going. She would walk in to do head counts and would sit right on down and listen to the discussions while she was making sure we were all where we were supposed to be. If I was having an off day, I could count on her to turn it around. She would even talk "program" to people and make us see a different point of view on the topic or situation. The rooms were always cleaned and stocked properly, and smelled so fresh everyday when we were through with groups. Even the Administrators made people feel welcome and safe. River Oaks Treatment Center gave me just what I needed when I needed it the most. Sobriety and the want to have and proceed working an Honest Wonderful Program of Recovery.
Accomodations & Amenities

Treatment Effectiveness

Meals & Nutrition
The property here had the most appealing and pretty flowers, was tended to and taken care of by the best man on campus! Rosae. This man takes such pride in his work and it truly shows. He works so so hard in the heat, and rain. Cleaned up after people when he needed to and never complained. He made sure each dorm building had coffee, creamer, and sugar every morning to! I told you all he is the best! He was always smiling and supportive with the program. A couple times he was seen standing by the room where we had classes and it was like he was learning as well. Great staff, lessons, and skills any person could ever need.
Accomodations & Amenities

Treatment Effectiveness

Meals & Nutrition
Nurse Practitioner Lovanie knew exactly how to help me and what I was trying describe when I had to put in a sick call to be seen. The medication I was on at first had a negative reaction with a different medication I had started, she quickly recognized what the problem was and why, and found a solution that worked for me. She always got stuff done and didn't waste time doing so. Lovanie had such a big bright smile every time I would see her. I will say that for a rehab, River Oaks has the right stuff. Lessons and staff and equipped with the medical team. Techniques to help with thought processes and so much more...

We make finding treatment simple
American Addiction Centers will help you take back control of your life.